WKC BRITISH INFANTRY OFFICER SWORD (1897 PATTERN) ARMY AIR CORPS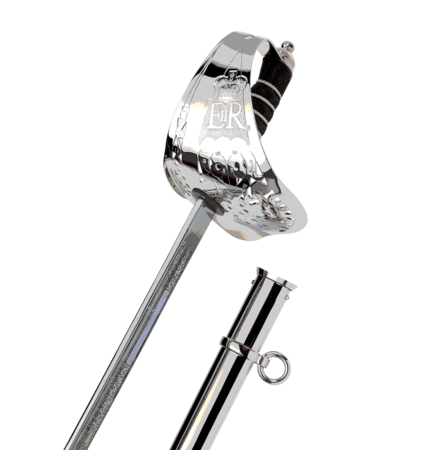 England British Infantry Officer Sword (1897 Pattern) Army Air Corps stainless steel blade
British Infantry and Royal Marines Corps - Officers sword (1897 pattern) in accordance with the British MOD specifications.
Art. No. 1461-MOD.
In November 2005, WKC purchased the majority of the Wilkinson Sword Ltd. production in London. Amongst machines, equipment and parts, we also acquired the tools for the British Infantry and Corps & Royal Marines Officers Sword which Wilkinson delivered exclusively to the MOD
Nato Stock No.: 8465-99-973-6877.
Product specification:
Guard:
Pierced guard bearing the Royal cipher EIIR, hand-polished.
The grip-backing is made of solid brass and fixed to the blade tongue with a ball screw
Finish: Nickelplated
Grip:
Covered with genuine shark skin, wrapped with 3 silver wires.
Blade:
Your choice of a forged stainless steel blade, carbon steel or carbon steel nickelplated.
The blade is hardened and tempered to ca. 48-52° HRC Rockwell.
Dimensions of the blade: ca. 825 mm x 6.5 x 25 mm.
The acid-etch is so deep, that one can feel it with a fingernail.
Customer must be 18 years of age
Scabbard:
Your choice of a nickel-plated steel scabbard with 2 rings or leather scabbards in brown or black
Nickelplated Scabbard: Nato Stock No. :

8465-99-973-6853

.
Brown Leather Scabbard: Nato Stock No. :

8465-99-127-9993

.
Black Leather Scabbard: Nato Stock No. :

8465-99-122-1490

.

Art. No: F1460-Naht-Schwarz
Included Accessories: Protective cloth bag.