REDUCED SHOP SAMPLES Royal Navy Officers Sword & Scabbard
£495.00
Saving: £155.00
RRP: £650.00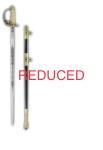 Officers Sword & with Scabbard REDUCED-SHOP SAMPLES
CLEARANCE,

SHOP SAMPLES. MAY HAVE A SMALL SCRATCH OR CHIP.

PRICE INCLUDES RLC SWORD AND SCABBARD.

LIMITED AVAILABILITY.
PLEASE EMAIL FOR PHOTOS
The solid-hilt design of the Royal Navy Officers' Sword was primarily developed in 1827. However, it must be stated that it superseded the first Royal Navy pattern sword which had an impractical design and was created in 1805. It was not until 1846, that a blade was standardized for all Royal Navy Officers. However, the current blade was implemented in 1929 and is a light, single-edged straight blade. Possessed mainly by RN Commissioned Officers, the Navy Sword is distinguished by a gold-plated brass hilt, a surreal white fish-skin grip and a brass pommel created in the form of a lion. The Royal Navy sword is renowned for a unique mechanism that has often proved to be a life-saver during difficult times. Adding more exclusivity to the Sword is the inner side of the guard which is hinged so that it can be folded down to connect with a pin on the scabbard top mount.The scabbard has been immaculately manufactured using rawhide with gold-plated brass mounts whereas officers of Air Rank and above hold a version with more intricately embellished mounts.